Android App Development Cousres
MWAD (Mobile and Web App Development)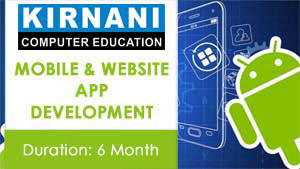 MWAD is a comprehensive program that trains students in all aspects of Website Designing & Android App Development and makes you a complete Mobile & Web App Professional. It uses industry-endorsed techniques to make the student an in demand new media creative professional for rich Multimedia Content, visually appealing Websites, UI/UX, SEO, Content Management, Java & Android etc.
See Details              Duration: 6 Months              Download Brochure              Apply Now
AAD (Android App Development)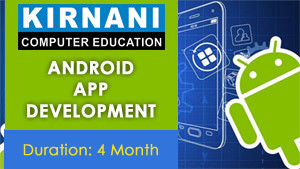 AAD includes Java and Android. KIRNANI Computer Education - Ajmer is an Computer Institute with proven expertise in training useful Android Applications as well as providing hands-on training to budding Android Developers. We have a dedicated team of Android Trainers who provide intensive and dedicated training on all core and general aspects of Android Development. We have mastered the Android SDK and can effortlessly transfer our skills and knowledge to you through our Android Training Course.
See Details              Duration: 4 Months              Download Brochure              Apply Now
PHP, MySQL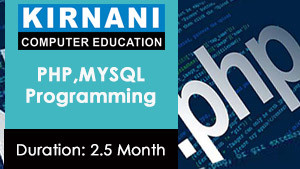 Our PHP Programming course provides the knowledge necessary to design and develop dynamic, database-driven Websites. PHP is a language written for the web, quick to learn, easy to deploy and provides substantial functionality required for e-commerce. PHP course introduces the PHP framework and syntax, and covers in depth the most important techniques which are used to build dynamic websites. We are the best php training institute in Ajmer, offers professional php course with project training.
See Details              Duration: 2.5 Months              Download Brochure              Apply Now